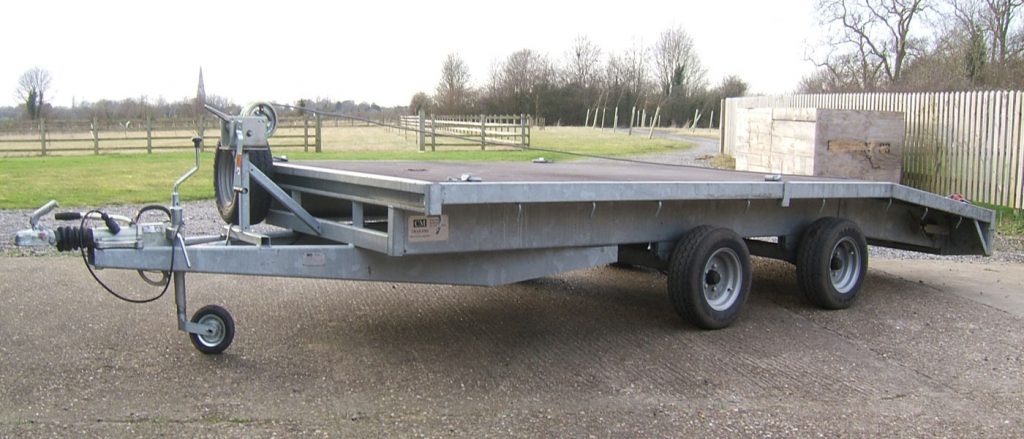 14′ x 7′ Beavertail Transporter
Our most popular trailer is a 14′ x 7′, 3000kg gross weight car transporter. Carrying capacity is 2100 kg. It has a fully boarded floor which gives it greater flexibility for carrying cars as well as other items. When hired for moving cars it is supplied with all the lashing straps required. However, just because it was designed to carry cars has not stopped it from being used to carry a variety of items such as roof tiles, log cabins, boats and hot tubs etc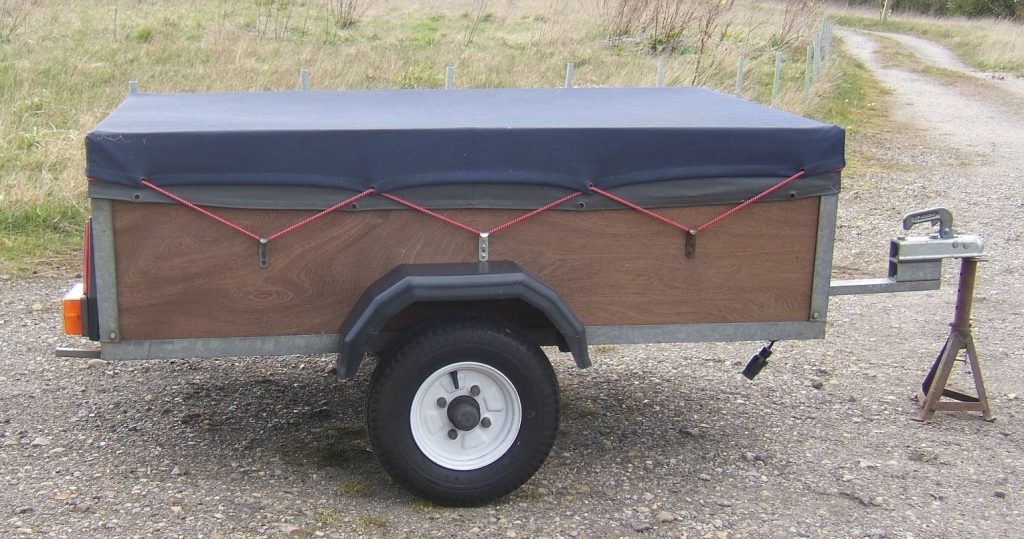 5′ x 3′ Camping
Trailer
The smallest camping trailer is 5′ x 3′, 350kg gross weight with 18″ sides and has a waterproof cover.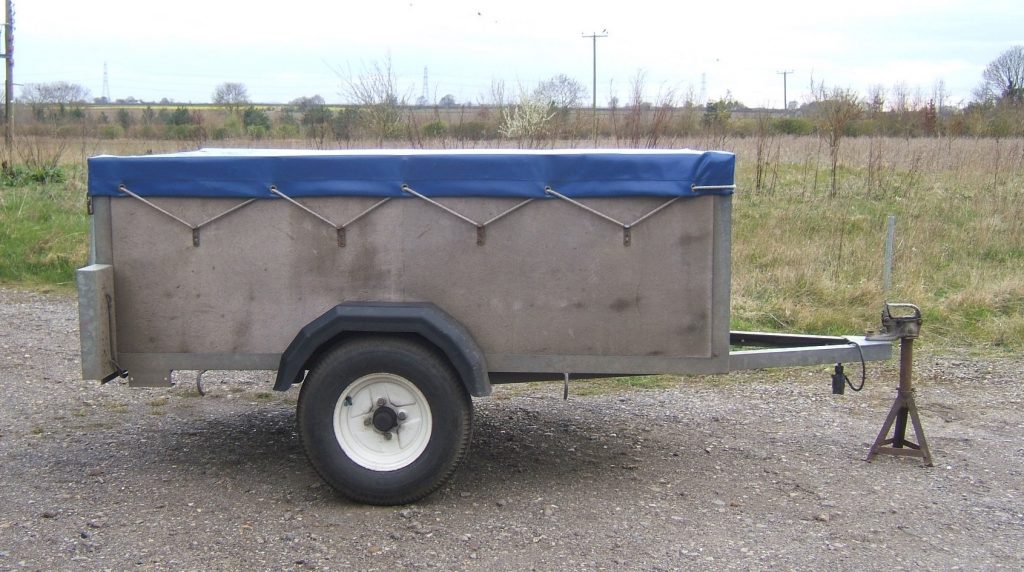 6′ x 4′ General Use
There is also a 6′ x 4′, 500kg gross weight trailer, with HD cover and 2′ sides for camping and general use.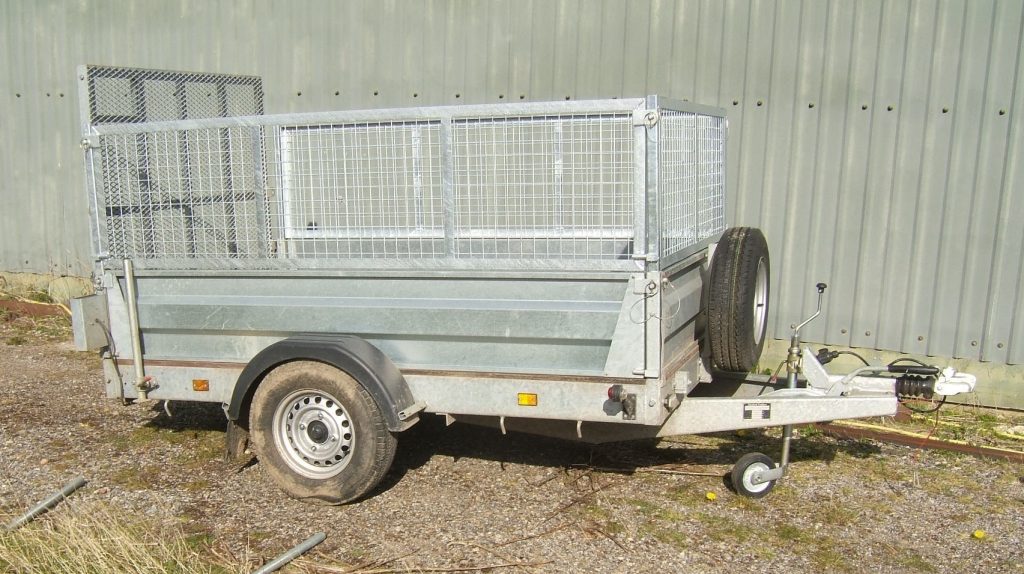 8′ x 5′ Mesh Sides
There is a 1300kg gross weight 8′ x 5'4″ trailer with ramp tail suitable for carrying ride on mowers and motorcycles. The mesh panels on this trailer can be removed as well as the lower panels to accommodate wider items. The unladen weight, without the mesh panels, is 500 kg giving a carrying capacity of 800kg.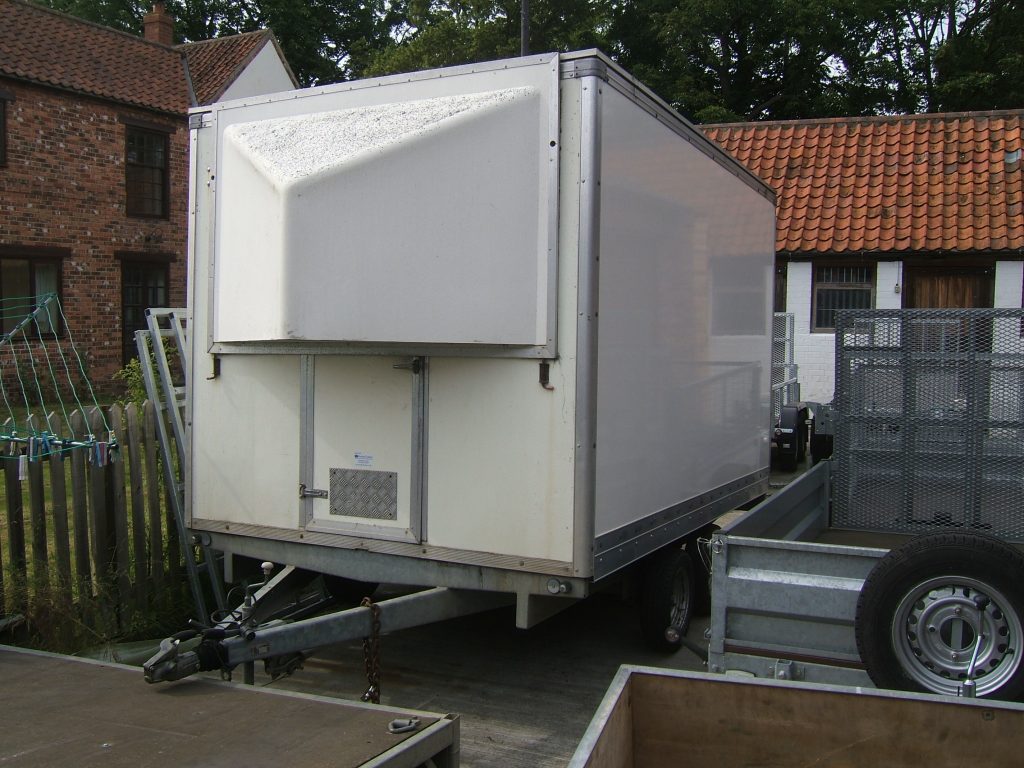 11′ x 7′ Van Trailer
We have a 2600kg gross weight van trailer which is 11′ long, 7′ wide and 6'4″ high inside with a lockable rear door, ideal for those moving house. 485 cubic feet capacity.
Our stock does change so please call to discuss your requirements.
Driving Licences. If you passed your driving test before 01/01/1997, you will automatically have the B+E extension on your driving licence.
We have decided that our company policy is that any hirer must have held a drivers license for a minimum of 3 years, or have proof that they have done a towing safety course. We would highly recommend for anyone that is nervous or inexperienced towing to do a course. For a list of recommended trainers please click HERE

Towing capacities are shown on the vehicle's VIN plate which is usually fitted under the bonnet – although this varies. The top line is the vehicle's gross weight, the second the gross combination weight and the next two the front and rear axle weights.
If you need assistance with the current laws on towing please, click the button below.
Your towing vehicle should be fitted with a standard 50mm tow ball and 7 pin electric plug. If you have a car fitted with a 13pin European style socket we can supply an adaptor for a small charge. The top of the tow ball should not exceed 17″ from the ground. 4x 4 vehicles and some pickups will need to be checked for this. Hirers are responsible for ensuring the electrics on their tow vehicle are in working order. If you need to have your electrics checked or repaired we have a business local to us able to do this.
Identification. We require hirers to bring their driving licence, which must show their current address and another proof of address such as a utility bill. The hirer should remember to bring a long number plate. Trailer hire will require a deposit and this does vary according to the trailer. The hire charge is payable at the time of hire and is not deducted from the deposit at the end of the period of hire.
Detachable Towbars. If your vehicle has a detachable tow bar please make sure that it is fitted before you arrive and that it is in working condition
PLEASE NOTE. As the result of many individuals who have booked a trailer for hire and then not bothered to turn up nor had the courtesy to cancel the booking by telephone, we have decided that ALL bookings will require a booking deposit. This will be taken by debit (not credit) card over the telephone at the time the trailer is booked. The minimum will be £20 and this will be deducted from the total hire cost when the trailer is collected.
We do not accept hire bookings by email. All bookings must be made by telephone.